Sullivan & Company - Certified Public Accountants
4709 Montgomery Lane #201 - Bethesda, MD, 20814
Phone: 301-657-8080

"It has been a tremendous asset to have you as my accounting firm. Next year, we will be celebrating our ten year anniversary. You have been a big part of the reason for our success. I sleep well at night because I know all of my financial records are in order. In addition, it has been a great advantage to be able to call you at any time for financial and tax advice. I think you are small business financial wizards."
Retail and Wholesale Products, Washington, DC,
Client since:
July 1996

"I wanted to take this opportunity to thank you for the personal attention that you've shown to our company. Thanks to the hard work and experience of your company we will have one of our best years ever. As a small business owner it's nice to know that I have the ability to turn to a company as qualified as your whenever I have a business or accounting decision."
Construction Company, Rockville, MD,
Client since:
October 2004

"For the past twenty years, I wanted to tell you that I have appreciated your dependable accounting service delivered with a personal touch. You and your staff have always been there for us when we needed you. We appreciate your financial and business ideas. It is great to have someone to bounce ideas off of at important times in our company history."
Service Company, Rockville, MD, Client since: October 2003
"I would like to take this time to thank you and your staff for the superior work that your firm does for my company. It is a great feeling to know that the work is done in a timely manner, always on time, and always done right.
I know that if I have a question or a problem that I can count on you to handle them for me. I would recommend your firm to anyone that needs accounting services for their business."
Retail Business, Landover, MD,
Client since:
March 2005
Sullivan & Company
Client Comments:
Sullivan & Company | Certified Public Accountants | 4709 Montgomery Lane #201 | Bethesda, MD, 20814
Phone: 301-657-8080 | www.esullivan.net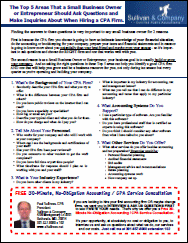 "FREE REPORT - 19 Questions to Ask When Hiring a CPA for your Company or Small Business"
Paul Sullivan, CPA
President
Sullivan & Company
Presented by Paul Sullivan, CPA, President & John Vaccaro, Client Service Manager, Sullivan & Company
The CPA firm you choose or change to is going to have an intimate knowledge of your financial situation, do the accounting or bookkeeping for your company, prepare your taxes and financial statements and in essence is going to know more about you potentially than your best friend and maybe even your spouse so it's important to ask a LOT of questions FIRST and choose the RIGHT firm and one that will work well with you for many years! REGISTER & USE OUR CHECKLIST TO ASK THESE QUESTIONS!
Receive Instant Access to a 16 minute audio report Plus our 19 Question Checklist
when you enter your info below: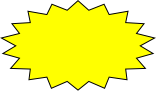 Free 19 Question Checklist!